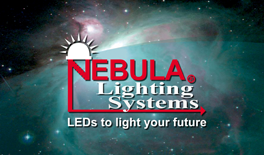 For Immediate Release
PRIVATE EQUITY FIRM ACQUIRES ASSETS OF TOGIN TECHNOLOGIES
HOLLY HILL, FL and TAMPA, FL
- February 28, 2007
 -  M R ENTERPRISES, a private equity firm based in Tampa, FL, along with THORB ENTERPRISES of Holly Hill, FL, have formed a strategic alliance, NEBULA ENTERPRISES ("NEBULA"), to continue to develop and manufacture quality, eco-friendly, low energy and long lasting solid state lighting (L.E.D.'s) systems, components and luminaires.
About Nebula
Nebula Lighting Systems, with locations in Holly Hill, FL and South Bend, IN, manufactures state-of-the-art lighting systems for architectural, recreational, display and general illumination L.E.D. lighting applications.  Nebula holds several patents and patents pending on their systems, components, drivers, thermal management system and other enabling technologies.
NEBULA LIGHTING SYSTEMS will remain the mark for all product lines and subsidiaries of NEBULA ENTERPRISES LLC.
For press inquiries, contact:
Mark Rosenberg                    
President & CEO                    
M R ENTERPRISES                
(813) 924-0303